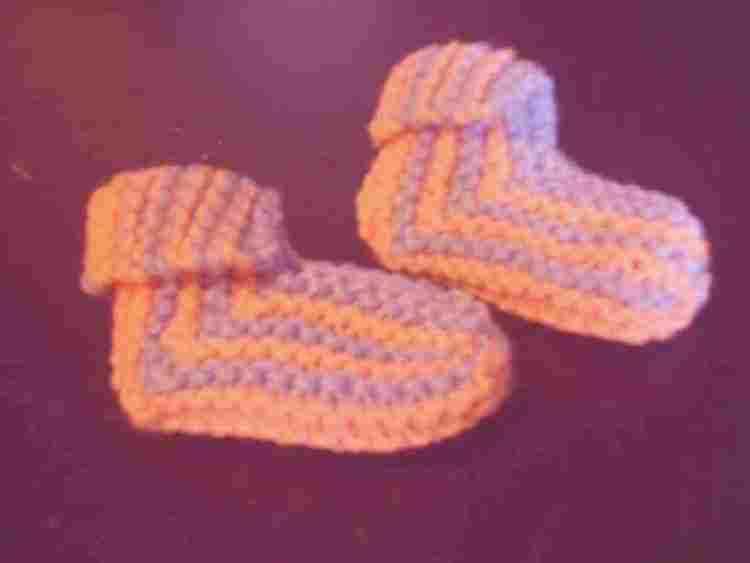 Marilyn's Baby Booties

Designed by Marilyn Stevens, copyright Aug, 2003

Marilyn designed these darling booties to go with the

Baby Surprise Jacket by Elizabeth Zimmerman

.

Materials:
worsted weight yarn to match your main color, and any strip color that you
would like to use. Feel free to add stripes wherever you would like them.
Size 5 (US) needles or whatever size gives you a 3 /12" to 4" bootie. If you are knitting a larger BSJ you may need to go to a size 8 or 9.

Special stitch:
S,K2,Psso -- slip next stitch purlwise, knit next 2 stitches together, pass
slipped stitch over.
(Yep, just like the double decrease in the Baby Surprise.

Leave a long enough tail that you can tuck it in easily when finished. Make
a slip knot and using the thumb loop cast on, cast on a total of 31 stitches
(loosely) on the needle.
Row 1 - K 31, turn.
Row 2 - K 15, (S,K2,Psso), K 13, turn.
Row 3 - K 29, turn.
Row 4 - K 14, (S,K2,Psso), K 12, turn.
Row 5 - K 27, turn.
Row 6 - K 13, (S,K2,Psso), K 11, turn.
Row 7 - K 25, turn.
Row 8 - K 12, (S,K2,Psso). K 10, turn.
Row 9 - K 23, turn.
Row 10 - K 11, (S,K2,Psso), K 9, turn.
Row 11 - K 21, turn.
Row 12 - K 10, (S,K2,Psso), K 8, turn.
Bind off, cut yarn, leaving long enough tail to weave in easily.

Leaving a long enough tail to weave in easily, join beside tail of cast on
row, and pick up a total of 31 stitches along the cast on. Work rows 1-12 and
bind off, leaving a long enough tail to either crochet the bound off rows
together or sew them together neatly. Gather all toe stitches together, and secure
tightly. Weave in all tails and fold down cuff. Now make another one to
match.


Gail's adaptation: (I'm too lazy to break off and re-pick up the 31 stitches on the cast on edge. I came up with a way to work it from one half of the front to the other half.)

Cast on 19:

Row 1: Knit

Row 2: K 10 , M1, K1, M1, K 8

Row 3: Knit 21

Row 4: Knit 11, M1, K1, M1, K 9

Row 5: Knit 23

Row 6: Knit 12, M1, K1, M1, Knit 10

Row 7: Knit 25

Row 8: Knit 13 , M1, K1, M1, K 11

Row 9: Knit 27

Row 10: Knit 14, M1, K1, M1, K 12

Row 11: Knit 29

Row 12: K 15, M1, K`1, M1, K 13

Row 13, 14, 15 : Knit

You are now at the middle of the back. Finish bootie by knitting Rows 1 to 12 on Marilyn's pattern and bind off as if to purl. Sew up you front seam. I left a little over an inch at the top unsewn for my cuff.